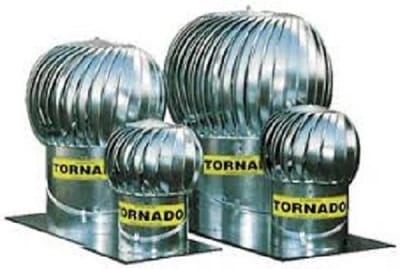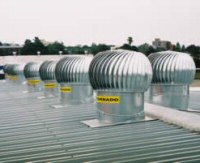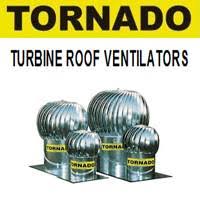 Superiority of product
The Tornado features such superior qualities as: • Tested Extraction Capacity - report available on request • Comprehensive 3 year guarantee
• 100% South African Product • Patented Bearing system • Top quality
of manufacture • Superior internal design of the Tornado eliminates the necessity of external supporting braces • Larger rotating dome for increased extraction capacity • Sealed bearings enclosed in a sealed bearing housing
Material type
The Tornado is available in a choice of Galvanised, Zincalume and Aluminium material.
Galvanised Tornados are constructed of Iscor specification Z 275 - 0,6mm steel.
The structure of the galvanised unit makes it more durable and reliable in the long run in terms of:
high velocity wind areas, hail storms and heavy rain general handling and transportation
The Aluminium Tornado is recommended for coastal areas.
Polyurethane treated Tornado's are recommended for the ventilation of acid and caustic fumes intensive plants to protect the material from corrosion.